It feels as though one week I am looking around the garden, wondering when the first fruit will be ready, and the next I can hardly keep up with the harvest. It is now full steam ahead with soft fruit in the garden. A few weeks ago it was early gooseberries, then strawberries. Last week I almost missed a bush of blackcurrants in the front garden that were really ripe and now there are hundreds of raspberries. I am fillinglot two or three bowls every evening, about 600g or more. Too many to eat fresh now so the freezer is starting to fill up. It is almost a chore. If I don't pick them for a day there are overripe berries. A nice problem to have! Tayberries are about ready too. They have a really special flavour when perfectly ripe. The first sweet cherries are ready to eat too.

There is still a lot of soft fruit to come: blackcurrants, jostaberry, goosberries, redcurrants, whitecurrants, loganberries, blackberries, japanes wineberries and blueberries. Might have to make some room in the freezer.

Powered by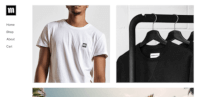 Create your own unique website with customizable templates.