I had the first apple today from one of the trees I planted in 2008. The Redsleeves apple on M26 had a small crop of about 15 apples this year and the warm weather meant they were ripe about a month early. I tried one a few weeks ago as they looked a good size, but it was still not ripe. I went away for a few days and came back to find most of the apples had fallen from the tree. The slugs and snails had made short work of some of them, but there were enough to try and a few still left on the tree. The flavour was good. Nice and crisp. The apples are a decent size and about three quarters of the skin is red and the rest green. It's a great feeling to get the first of the apple crop from the forest garden. Having the apples so early in the season is a real treat too.

In the rest of the garden there are blueberries ripening, some blackcurrants and whitecurrants still, lots of alpine strawberries and autumn raspberries. The hazelnuts are looking very large now too and I'm wondering whether I should pick some early before the squirrels. There are nasturtiums everywhere and the mashua has gone wild, growing up over the sour cherry tree. Courgettes keep coming in a steady stream of course. There are lots of flowers out at the moment and the place is buzzing with bees and hoverflies. I saw the resident speckled bush cricket today grown to about 3cm long.
Powered by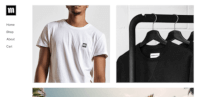 Create your own unique website with customizable templates.